A Tourist's Guide To The Giant Things And Mattie Gunterman Historical Sites Of La Crosse, Wisconsin
1978
This booklet version of the 1978 photograph and text series A Tourist's Guide to the Giant Things and Mattie Gunterman Historical Sites of La Crosse, Wisconsin, harkens back to the early days of Gianthropology and crosses over to a prior research project on the life of early 20th century photographer Mattie Gunterman (1872-1945).
Published as a companion volume to Gunterman's biography Flapjacks & Photographs, this 12 page photo essay traces Henri Robideau's footsteps as he searches for clues to Mattie Gunterman's childhood in La Crosse, Wisconsin and discovers the town also has Giant Things aplenty.
Self published, paperback booklet, 9 inches x 9 inches, 12 pages, 11 black and white photographs. Edition of 600. Cover price $4.95, ISBN 0-9699766-0-7.
1980
Self published photo postcard portfolio, 3.5 inches x 5.5 inches. Hand captioned and initialed black and white gelatin silver fiber base prints selenium toned on fogged Dupont Varigam, 24 years past expiry date (February 1956) . The images come from digs conducted along the Pacific cordillera between the years 1973 and 1978. Edition of 50, signed and numbered. Comes in elegant black acid free archival storage box. Original selling price in 1980, $40.
Pancanadienne Gianthropological Survey Set of 18 Postcards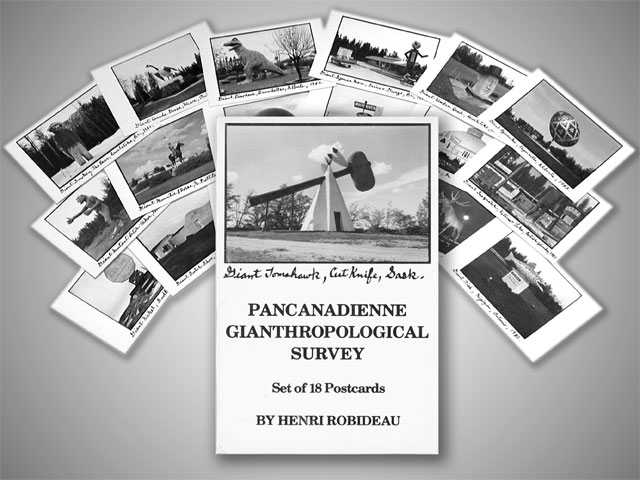 1984
Self published 18 photo offset postcards in folio, 4 inches x 6 inches. Photographs taken on digs conducted in 1981, 1982 and 1983. This handsome set comes shrink wrapped. Edition of 1,500. Original selling price $14.95
From the Pacific to the Atlantic Canada's Gigantic!
1988
Canada's Gigantic! contains more than a decade's field work by Gianthropologist Henri Robideau and his digging Giant Things from Vancouver to St. John's. The text by Peter Day, based on interviews with Robideau, is a warm and humorous celebration of a big country, of small towns with giant aspirations, and of people who think big.
Robideau, Henri and Peter Day. From the Pacific to the Atlantic, Canada's Gigantic! Toronto: Summerhill Press. 1988. Paperback, 9 inches x 7 inches oblong, 160 pages, 70 black and white photographs, index, back cover is fold out map of Canada. ISBN 0-920197-45-0. Original selling price in 1988 $14.95.
The Pancanadienne Gianthropological Survey
1995 Commemorative Series Canadian Inventions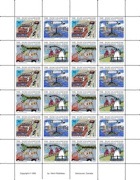 1995
This Artiststamp sheet was produced in conjunction with the Central Visual Artists Association as part of their miniature book project Fetish. The series of four stamps honours Canadian inventions that revolutionized the 20th century, representing them as fictional Giant Things. Honourees include the Robertson Screw, the Paint Roller, the Zipper and the Self Squirting Oil Can. This set represents one of the few examples of Professor Robideau's work produced in colour.
Self published perforated sheet of 24 Artiststamps, 8.5 inches x 11 inches, full colour Canon laser print. Edition of 100 signed copies, 50 of which are on gummed paper numbered 0001 to 0050, 50 on plain paper numbered 0051 to 0100. Distributed with black and white information sheet, black interleave paper and enclosed in a three ring notebook sheet protector. Selling price at time of edition$19.95.
2001
The epic photographic drama of Henri Robideau's narratives The Crossroads of Life and Acts of God is beautifully presented in duo-tone reproductions. An essay, Big Story Blues, by Edward Morose takes a look back at some of Robideau's photographic work of the past 20 years, including the Pancanadienne Gianthropological Survey. A biographical chronology, gallery log and bibliography round out this volume, which was produced for a solo show at the Photographers Gallery in Saskatoon, Saskatchewan, in the autumn of 1998.
The Photographers Gallery Saskatoon. Paperback 6.5 inches x 7.25 inches, 80 pages, 63 black and white duo-tone photographs, essay by Edward Morse, biographical information and list of exhibitions, collections and publications. ISBN 0-9691504-3-1. Printed in an edition of 1,000. Price at time of release $19.95.
•Beck, Caludia. Through The Looking Glass, Vancouver Photography in the Seventies, Vancouver: Art and Artists 1931-1983 [catalogue]. Vancouver: Vancouver Art Gallery. 1983.
•Cousineau-Levine, Penny. Faking Death: Canadian Art Photography and the Canadian Imagination. Montreal & Kingston: McGill - Queen's University Press. 2003.
•Fromer, Lorne. Henri Robideau: Giant Hunter Sees All. Toronto, Gallery TPW Views Vol 4 No 1, March 1987.
•Gaudreault, Léonce. Le Canada en grand format tel que perçu par Henri Robideau. Le Soleil, Québec. 15 mai 1987.
•Johnson, Eve. Lover of Giant Things Has a Big Future. Vancouver Sun. March 10, 1980.
•Langford, Martha. Scissors, Paper, Stone: Expressions of Memory in Contemporary Photographic Art. Montreal & Kingston: McGill - Queen's University Press. 2007.
•Pakassar, Helga. A Gianthropologist's Panoramic Views. Northwest Photography 5:11. January 1983.
• Shinhat, Molly. Henri Robideau's BIG ideas. Concordia Link. October 16, 1984.
• Talve, Merike. Henri Robideau, Coburg Gallery. Vanguard, 12:2. March 1983.
•Testa, Bart. Traveler's Cheques and the Rhertoric of Portability. Photocommunique 8:2. June 1986.
•Wood, Daniel. Henri Robideau: On the Road with Canada's Foremost Gianthropologist. Canadian Art, 2:3. September 1985.