Gianthropology In The Paleotragic Epoch
By Professor Robideau P.H.D.
Freda Farms Giant Ice Cream Cartons, Berlin, Connecticut, October 1939,
Russell Lee photograph. Lee photographed for the Farm Security Administration and his best known photographs are the Depression era dust bowl images of Paleotragic farmers down and out in the dirt fields of Oklahoma.
Russell Lee Photograph / Library Of Congress 8a27284a
Wreckage in Richmond, Virginia, the onetime capitol of the Confederacy when Hurricane Diane blew the fiberglass Fisk Tire Boy off a gas station roof, landing up at the foot of the Robert E Lee statue on Monument Avenue, sending the Gianthropological message that it is finally "Time To Retire" from the crime of slavery.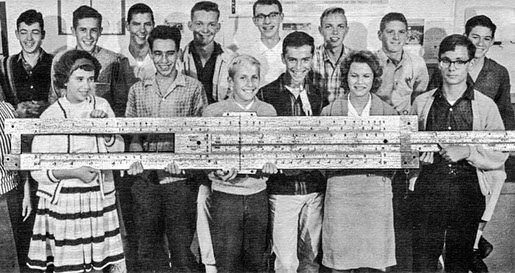 Pasmona High Giant Slide Rule Club 1963. Top row L to R: Denny, Henri Robideau, Corky, Dinky, Broady, Davey, Cregy, Guy Saint Pierre Beauchemin.
Bottom row L to R: Sue, Cy, Sol, Sonny, Sal, Kelvo Van Kurstendorffer Junior III.
THE ROBIDEAUSIAN ERA
The epoch begins almost coincidentally in 1946, the vary year of Robideau's birth. However, Gianthropology itself didn't see its first musings until circa 1973 and it wasn't until circa 1980 that its existence was finally confirmed. By this time in human evolution, the species Homo Avarae (Latin for greedy men) and its sub species the Hominum Fabum (Latin for human beans or methane man) were beginning their process of self extinction. This period is marked by the conceptual division of winners and losers into a class system, resulting in an existential conflict between the Hominum Fabum and the survivors of the earliest genus of the Paleotragic, the Homo Minime (Latin for buddy can you spare a dime?).
Robideau grew up Homo Minime on the unceeded ancestral territory of the Tunxis People on the banks of the Pequabuck River. On Sundays his father would go on automobile explorations looking for the lost tribes of Connecticut and afterward, he would stop for peach ice creams at the Giant Ice Cream Cartons in Berlin. Amazingly enough, the photograph of the Freda Farms Cartons is one of the most famous in American roadside history, taken by none other than Russell Lee, Farm Security Administration photographer whose fellow photographers included Dorothea Lange, Arthur Rothstein, Carl Mydans and Walker Evans.
Robideau's childhood included his father's Paleotragic winter trips to Pompano Beach, Florida, for athlete's foot fungus cures in the sultry waters off the balmy Atlantic coast and the annual observation of the Pink Flamingo mating season in Hialeah Park. There was always a side trip to watch Seminole alligator wrestlers in the Okefenokee Swamp and a visit to the Custer precursor 'Dade's Last Stand' on the Withlacoochee River where the US Army was slaughtered in 1835 while attempting to slaughter the Seminoles.
Those trips along the Atlantic seaboard were a festival of Giant Things and Burma Shave signs for the young Robideau, and in a time before highway rest stops, gas station wash rooms were the place to find relief. Especially popular were the gas stations with fiberglass Giant Fisk Tire Boys on the roof. The Giant Tire Boy was dressed in his P-J's and held an enormous truck tire over one shoulder and in his other hand a lit candle, while deeply yawning, suggesting the company's pun slogan "Time To Retire." In 1955, following Hurricane Diane plowing through Richmond, Virginia, one of the Fisk Boys was blown across town and ended up at the foot of the Robert E Lee statue on Monument Avenue, sending a Gianthropological message to the looser of the Civil Slavery War statue that, nearly one hundred years after his defeat it was truly "Time To Retire" the slave trade and the racism it engendered.
In 1956 Robideau's family moved to California, the land of Giants, especially around Los Angeles where Hollywood influenced such enormities as the Giant Brown Derby, the Giant Hot Dog and the drive-through Giant Donut. Even though he was only ten years old he was able to convince the New York Giants to move their baseball club to San Francisco, penning this now famous letter, preserved forever and ever in the Gianthropology Ancillary Studies Department Baseball Mall of Fame:
Dear Willie Mays
It would be really a Big Thing if you could move the Giants to California. You can stay at my house til you settle in.
Your Pal
Henri
During his teenage years Robideau began developing his early theories based on pure B. S., or as he liked to think of it, Big Science, or maybe Big Stuff, but in any case B.S. Many of his nascent fundamentals were formulated at Pasmona High School when he was elected Paramount Ruler of the Giant Slide Rule club and began taking his own B.S. seriously which was way more difficult in those days before pocket calculators as all math was done manually on the slide rule, or if needs be, an abacus.
After graduating Lingus In Maxillum at the top of his class with a double P. H. D. (Pasmona High Diploma Piled Higher & Deeper) he set out in the world looking for a Big Thing capture methodology. He settled on photography, studying for a year at Laney College in Oakland, California, but then dropped out and fled the horrific violence engulfing America, heading north to Canada, the land of his ancestors.