Giant Viking Head, North Burnaby Secondary School, on the corner of Kensington Avenue and Hammarskjold Drive, Burnaby, British Columbia, February 25, 2017. A plaque on the back reads, "This statue of the Burnaby North Vikings symbolizes the spirit of strength and courage in each of us that seeks new challenges and horizons to make a better world. Created by John Clarke and built by the staff and welding students of Burnaby North, June 13, 1994." The Giant Head also honours Swedish statesman Dag Hammarskjold, who as Secretary-General of the United Nations died in a 1961 African plane crash while attempting to bring peace to the warring Congo.
DEPARTMENT OF ANCILLARY STUDIES
Most of the field work conducted in the pursuit of Giant Things has been done in Canada, however other countries have come under the watchful eye and documentary camera of Professor Robideau – the United States, Mexico, Spain, France, Netherlands, Ireland and Japan. Here are some examples of these other Gianthropological investigations.
The Department of Ancillary Studies was developed to insure that all countries are recognized for their contributions to Gianthropology. Professor Robideau designed a special graphic to accompany international works which lists their country of origin, for example, here is the label for photographs from the United States:
Giant Revolutionary Heads of Benito Juarez, Miguel Hidalgo, and Venustiano Carranza, adorn the Civic Plaza de la Patria, Ensenada, Baja California, Mexico, December 22, 1983.
United States of America from the series Henri Does Houston 1986
Ya-hoo! It's Jimmy Bob the Texas six-gun shrimp ~ talk about Jumbo Praws – Yikes! February 1986.
Buddy's custom wheel cover grave yard is a cross between hub cap heaven and a heavy metal concentration camp. February 1986.
Dun Aengus is the most magnificent stone monument in all of Europe built about 3,000 years ago by Stone Age holdouts from the Bronze Age, it covers a good chunk of the northern end of the island of Inishmore, the largest of the Aran Islands in Galway Bay. The main fort is a massive semi circular stonework sitting at the top of a cliff that drops off 100 meters into the open sea of the Atlantic Ocean and is surrounded by concentric stone walls and standing stones that cover another dozen or so hectares. May 18, 1990.
Japan from the series Big In Japan 1990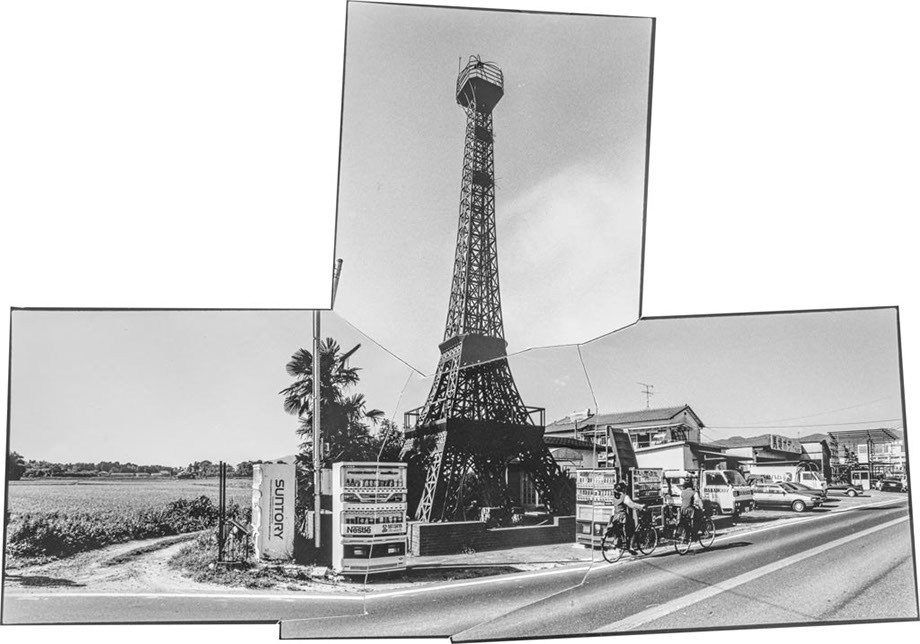 Replica of the Eiffel Tower created from welded car parts by the Baba brothers of Mitagawa, who run a body shop and air brush painting service. Their inspiration for the tower came from their annual off season travel to Paris, France, where instead of painting car bodies they painted Parisian street scenes on canvas for sale to American tourists. Mitagawa, Kanzaki District, Saga Prefecture, October 20, 1990.
Giant Kannon, the Bodhisattva goddess of compassion, stands on the back of the Fukusai-ji Obaku Zen temple constructed in the shape of a Giant Turtle. A Foucault Pendulum is suspended from inside Kannon's head and swings over the remains of 16,500 Japanese killed during World War II. Nagasaki, Nagasaki Prefecture, October 21, 1990.
Giant Kotankorkur Ainu Chief stands at the entrance to the Ainu big lake village Poroto Kotan, in the town of Shiraoi in southern Hokkaido. The Ainu are Japan's remaining indigenous culture, having been colonized during the late 19th century. This Ainu village is a living museum where daily demonstrations of their cultural practices are presented in reconstructed houses and dance performances in outdoor gatherings. November 2, 1990.